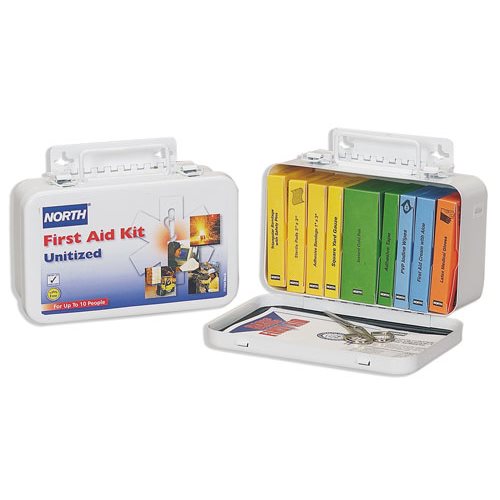 Press and move to zoom.
Mouse over image to zoom.
North First Aid Kit - 10 Unit
Item Number: DD1970950
This item is temporarily unavailable with no ETA.
These sturdy and durable kits are waterproof and equipped with carrying handles and mounting brackets for versatile mounting throughout the facility. Kits are ANSI Z308.1-2009 compliant. Color-coded cartons hold individually sealed unit dose applications to handle most minor aches, pains, bumps, bruises and sprains. Also includes First Aid Guide, scissors and forceps. Color codes are as follows: yellow for bandages and compresses, orange for personal protection, blue for antiseptics and wound cleansers, red for burn treatment, green for special or miscellaneous items.
Contents:
1 unit - Triangular bandage, 40" × 40" × 56"
1 unit - Instant Cold Pack
1 unit - Gauze Compress 36" × 36"
1 unit - Adhesive Bandages 1" × 3" (16 pcs/unit)
1 unit - Gauze Pads 3" × 3" (4 pcs/unit)
1 unit - Adhesive Tape 1/2" × 7.5' (2 pcs/unit)
1 unit - First Aid/Burn Cream with Aloe (6 pcs/unit)
1 unit - PVP Iodine Wipes (10 pcs/unit)
1 unit - Synthetic Medical Gloves (2 pair/unit)
North item number: 019709-0005L

This item contains hazardous substances in limited quantities and may be restricted from air shipment. If you require expedited shipping, please contact us to discuss your options.
Availability: Not available
This item is eligible for return.
USA Safety Supply returns will be accepted up to 30 days from delivery date. All merchandise must be carefully packed and will be subject to charge if not in saleable condition. All returns may be subject to a restocking fee.
Contact us to obtain a Return Authorization.