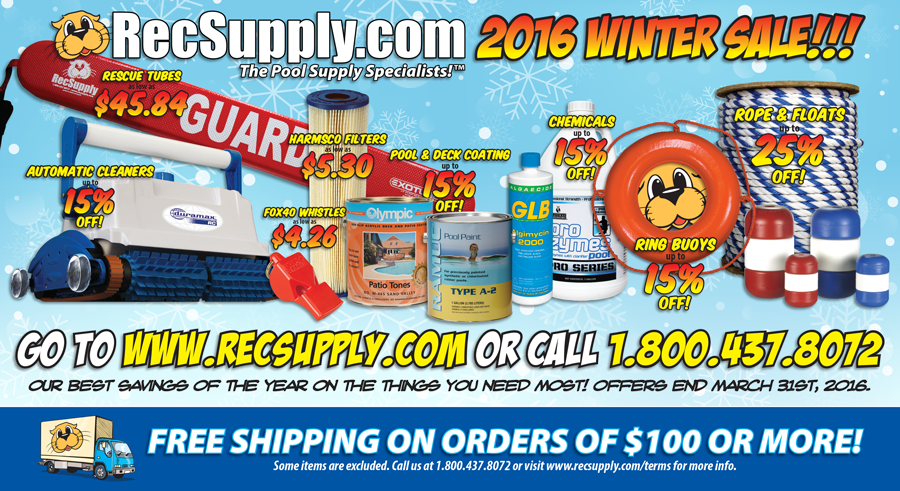 2016 Commercial Pool Supply Winter Sale
Through March 31, 2016, we are offering some of our best pries of the season on popular products in the commercial swimming pool product lines listed below. Sale items qualify for free shipping unless noted.
Click on the category below to see individual items on sale through March 31!
Category Overview
For specific questions about any of the products seen here, please call us at 1.800.437.8072... we're always happy to help!

Pool Paint and Deck Coatings

Nearly all of our commercial swimming pool and deck paints are 15% off. Prices for any quantity of One Gallon containers includes free shipping! Four and Five Gallon containers are discounted, but not eligible for free shipping.

Pool and Spa Chemicals

A broad selection of chemical from GLB, Natural Chemistry and SeaKlear are discounted up to 15%.

Robotic Pool Cleaners

Select models from Aqua Products and Dolphin are on sale with discounts up to 15% off our regular prices.

Rope and Floats

This is the best time of year to replace worn safety ropes. Save up to 25%!

Life Rings

You save 15% on our industry standard US Coast Guard approved ring buoys.

Whistles

Select whistles and lanyards from Fox 40. Savings up to 25% off!

Rescue Tubes

Our Recreation Supply brand rescue tubes are discounted 10%. Don't forget... prices include free shipping!

Filter Cartridges

We are offering 25% savings on the Harmsco Super Tuf 6 cartridge. Discounts also apply to Harmsco's Super Tuf 105 and 155 square foot cartridges, which are used as replacement filters for our Recreation Supply filter pump carts and Harmsco BetterFilters.

Vacuum Hoses

Savings up to 15% on our commercial-duty 1.5" and 2" diameter vacuum hose in a variety of lengths.
In addition to our limited time sale items above, items in the categories below are special buys and closeouts offered for a limited time, while supplies last.
Click on the category below to see individual items in our Specials and Closeouts department!
Category Overview
For specific questions about any of the products seen here, please call us at 1.800.437.8072... we're always happy to help!

Book Specials & Closeouts

Chemical Specials & Closeouts

Cleaning and Maintenance Specials & Closeouts

Deck Equipment Specials & Closeouts

Fitness and Training Specials & Closeouts

Lighting Specials & Closeouts

Mechanical Room Specials & Closeouts

Painting Specials & Closeouts

Safety Specials & Closeouts

Speedo Specials & Closeouts

Swimline Specials & Closeouts

Whistles & Lanyards Specials & Closeouts

Zoggs Specials & Closeouts