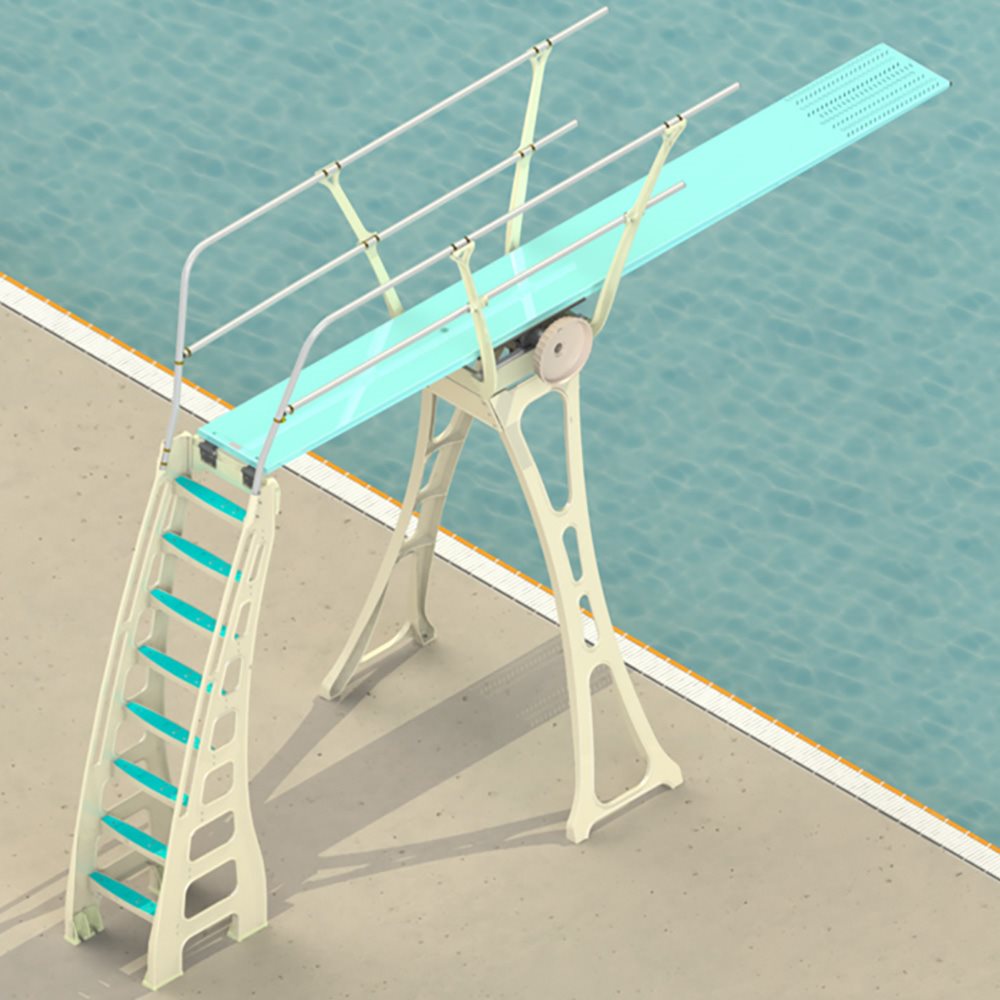 Double-tap and hold to zoom.
Mouse over image to zoom.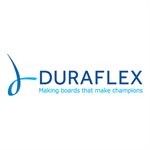 Durafirm 3 Meter Stand
Item Number: HH3130042
Durafirm diving board stands are the result of design and engineering focused on stability, low noise level, safety and ease of installation on new or existing decks.
Many new features enhance the usability and appearance of the Durafirm 3M Stand. The ladder is thicker and 50% heavier, providing a more stable base for the diving board. The shape of this new ladder is designed to put more support directly under the mounting location of the diving board, which further enhances the stability. Divers will immediately notice the improved feel of this ladder.
The ladder has built-in handrails that provide a comfortable grip as the diver ascends the ladder. The steps are a new, wider, more comfortable design, featuring a replaceable slip-resistant slotted tread that matches the Duraflex competition diving board. The addition of one step, the decreased step angle, and the consistent spacing of the steps make this ladder very easy and comfortable to use.
Durafirm's "Eiffel Tower" non-cantilevered design provides a more stable base for the fulcrum than most other diving platform structures.
The patented Durafirm fulcrum replaces the conventional rack and gear type fulcrum with precision tracks and slide bearings that reduce hardware "clatter" as much as 80%.
Hinged board anchors allow easy tilting of the board up to 180°.
All structural members are heavy aluminum castings. All working parts are heat-treated high strength anodized aluminum forgings or extrusions. Roller, slide and hinge bearings are field replaceable nylon, adjustable for wear. Durafirm fulcrum and anchor units have been chosen by serious competitors world wide for years.
The most important single feature of the Three Meter Durafirm is the simple 8 point deck anchorage, which requires no special footings, and can be installed on an existing deck, if concrete is of good quality and no less than 5" thick.
Includes hand rails on both sides.
Deck area used: 72" × 155".
NOTICE
Duraflex diving equipment should be installed only in facilities whose diving wells comply with all aspects of either the FINA, USA Diving, or NCAA diving well standards or whose dryland space complies with the FINA dryland diving standards. Copies of the FINA, USA Diving, and NCAA standards are available at no charge at www.fina.org, www.usadiving.org and www.ncaapublications.com, respectively.
Installing diving equipment in any facility that does not meet FINA, USA Diving or NCAA facility standards significantly increases the risks of catastrophic personal injury or death due to the increased likelihood of a diver making contact with the facility or pool ceiling, walls, or floor, or other equipment in the facility. The risk of personal injury includes the risk of death, paralysis, brain damage, and other significant injuries.
Duraflex International item number: 70-231-300

This item ships by Truck. Additional charges will apply if the following services are required:
Shipment to a residential or military base address (charge varies, approximately $40 to $100)
Shipment requiring inside delivery or a lift gate (charge varies, approximately $75 to $125)
Expedited Service
Please specify during the checkout process in the Comment/Note section if you will need any additional services (such as those listed above) upon delivery. You will be contacted for approval prior to processing your order if any additional charges apply.

Our Duraflex products may not be shipped outside the USA.
This item is eligible for return.
Duraflex 3M Diving Stands, in new and unused condition are eligible for return at the discretion of the manufacturer. A restocking fee of $500 will apply for all returned 3M Diving Stands. Authorized returns are subject to physical inspection to determine the conditions of the item. Below is a list of possible return scenarios and exceptions:
If the item has never been used or installed and is in good condition when it arrives at the manufacturer, the return is authorized and subject to a restocking fee.
If the item arrives with shipping/freight damage, but is repairable, the return may be authorized and subject to a restocking fee and any additional refinish/repair costs.
If the item arrives with shipping/freight damage, and is not repairable, the return will not be authorized. A claim with the freight carrier should be filed.
If the item arrives with signs of use or installation, the return will not be authorized.
Contact us to obtain a Return Authorization.
You May Also Be Interested In